For Christmas I received tons of amazing gifts from my family and friends, I am truly a lucky, lucky girl. I have one present that I have been consistently using day after day since I received it….my FitBit One.
If you've never heard of a
FitBit
before, here's the basic concept. There are several models of FitBits, they keep track of how many steps you take a day, how many miles you move, etc. They are basically an extremely fancy pedometer that you can link with an app on your phone as well as the FitBit website.
I chose the FitBit One based on several recommendations, however I have only head wonderful things about all the models.
Here are the things that my FitBit tracks: steps taken, miles moved, staircases taken, calories burned, active minutes, how I sleep each night.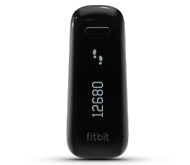 I love the size of it! I didn't want something I would have to wear on my wrist at all times, so that left me with the option of either the One or the Zip. I knew that I wanted to be able to track my sleep as well so that made the decision super easy!
I keep my One clipped onto my bra all day long- I find that it keeps great track of my activity that way- better than if I wore it elsewhere on my clothes. I found that when I was on vacation I didn't take as many steps as I thought I would, however since being back at work and starting my workout routine, I have taken more then I thought I would! I have been enjoying being able to track my steps, miles, staircases, etc all day long. I think that having the FitBit attached to me all day has made me want to move more. I am more likely to workout and move throughout the day, rather then do stationary activities and take naps when I know I haven't yet reached my goals for the day.
I also love the sleep tracking aspect of The One. Every night I remove my FitBit from my bra and stick it inside the wristband that came with it. In order to track my sleep I just hold down the button until the timer starts. In the morning when I wake up I press the button again to stop the timer. The information about my sleeping is all on my FitBit app, it tells me how many times I was restless and if I woke up at all during the night. I have found out that I am certainly very restless at night..probably the reason I'm always tired!
Not only am I enjoying this gift greatly, I am learning so much more about myself and daily activity level. It is also making me want to set goals and move more throughout the day. I really love the FitBit One and would recommend it to anyone looking to purchase one!