If you've been reading for awhile, you may remember back in April where I
became obsessed
watched the Veronica Mars tv series. I managed to work my way through all three seasons and then watched the movie that was recently released. They were all great and if you have an Amazon Prime account you can watch all three seasons for free which is awesome. I rented the movie on Amazon Prime for only $2.99 which wasn't a bad deal either =)
(I swear Amazon isn't paying me to promote them..but I wish they were!)
Anyways, after finishing The Veronica Mars movie I realized that there was a book written by Rob Thomas (the shows creator) that was about Veronica's life after the movie ended. I was sold and instantly downloaded it to my kindle!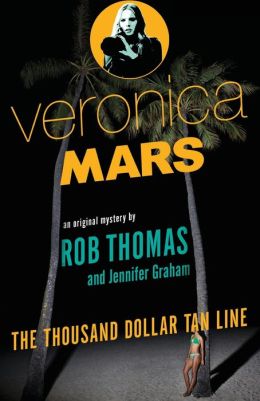 The Thousand Dollar Tan Line is set in good ole Neptune California where Veronica has just taken over for her dad at Mars Investigations. Her father is still recovering from the accident that occurred to him during the Veronica Mars movie (no spoilers from me!) Veronica has hired Mac to work with her and begun to take on new cases. A girl goes missing during her spring break in Neptune and Veronica is hired to find her. In the midst of her investigation another girl goes missing, the daughter is seems of none other then Veronica's mother Leanne.
With the complications of Veronica's relationship with her mother and learning of the new family she never knew her mother had, Veronica works on the case relentlessly. Veronica also has to deal with her fathers disapproval of her decision to stay in Neptune as well as her relationship with the stuck-at-sea Logan Echolls.
I enjoyed every moment of this novel and was hooked from beginning to end. As with every episode of Veronica Mars, I was not able to figure out the conclusion until Veronica stated it. It's amazing how Rob Thomas is able to place clues throughout the novel and yet I still am not able to figure it out without quick-wit Veronica.
If you love Veronica Mars and haven't read this book you better get on it!
By the way, yes I did picture Kristen Bell the entire time I read this novel =)